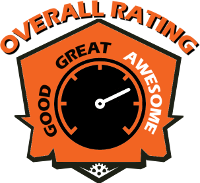 Shelf Road
Ride a Canyon Wall
From the high-altitude mining town of Cripple Creek, Shelf Road follows a canyon cutting through the Pikes Peak Massif down to Cañon City. Gorgeous scenery abounds through this entire route with distant mountain vistas, green valleys and red rock walls.
Buy GPS Waypoints for This Trail
Make a Dual Sport Day Trip with this trail
Combine Highway 24 and Phantom Canyon with this trail for
THE EPIC DUAL SPORT DAY TRIP!
Shelf Road Introduction:
Cutting through the southwestern edge of the Pikes Peak Massif, Shelf Road descends through a canyon, dropping 3,285 feet in just under 13 miles. The gravel road is mostly well maintained making the descents smooth and manageable. The road starts just south of Cripple Creek, the former mining town now striking it rich through retirees' nickels. It ends after leaving the canyons and joining a spectacular black ribbon of curves that leads to Cañon City.
Shelf Road Description:
We typically ride Shelf Road from north to south. The reason being if we're coming back through this area, we prefer to ride the longer neighboring Phantom Canyon from south to north. From Cripple Creek's main street, Bennett Avenue, head south down 2nd Street/Highway 67. Just 0.3 miles downhill, after crossing over the town's namesake watercourse, turn right onto Shelf Road (a.k.a. Xenia Street or Teller Country Road 88). Immediately on the right is an interpretive sign about the Shelf Road (see in the photo gallery below). Continue downhill with the creek on your right.
The valley begins to narrow as you proceed down-canyon. The road crosses the creek and a cattle guard at 1.8 miles and begins to contour the right side of the valley. At 3.0 miles the road crests a small hill to reveal stunning views of the Sangre de Cristo mountain range. There are only a few views like this in all of Colorado. Soak it in and enjoy. The view is even better early in the year when the range is still snowcapped. Continue downhill as the valley becomes a bit narrower and and the road steeper. As you wind through the canyon, be sure to look up for Window Rock, a square hole in a rock straight ahead. Although Window Rock is at the 5.4 mile mark, youll be able to see it straight above the road about a quarter mile before you get to it.
About two miles below Window Rock a trail crosses the road. Do not turn left or sharp right. Go straight across this trail, stay to the right and cross the cattle guard. Fourmile Creek is now on your right. The valley narrows once again and vertical rock walls become more prominent at the top of the canyon on the right. The road crosses Fourmile Creek on a concrete spillway at the 9.1 mile mark. From this point on it's clear why it's called Shelf Road.  Until the road leaves the canyon, you'll ride a shelf cut into the wall. At the 10.2 mile mark, just as the road curves to the right, stop at a reflection point on the left side of the road with beautiful views of the valley below and the road on the right. The cover photo for this trail was taken here. Get back on your cycle and enjoy the last few miles before the road leaves the canyon and joins Garden Park Road. Follow this paved masterpiece of curves down to Cañon City.
Trail Waypoints (in miles):
0.0 Turn RIGHT 0.3 miles south of Bennet Avenue for the start of Shelf Road (Xenia Street/CR88).
0.1 – Shelf Road informational sign.
1.8 – Cross Cattle Guard
3.0 – Beautiful view of Sangre de Cristo mountain range.
5.2 – View of Window Rock
5.4 – Window Rock.
7.5 – Trail crosses at angle. Stay RIGHT and cross cattle guard as you continue downhill (do not turn sharp right).
9.1 – Cross concrete spillway over Fourmile Creek.
10.2 – Viewpoint looking down-canyon with Shelf Road on right (cover photo above taken here).
12.6 – Shelf Road leaves canyon.
12.9 – Shelf Road ends. Paved Garden Park Road begins and continues down-canyon to Cañon City.
Nearby
Cripple Creek: Fuel is available as you come into town on either Teller County Road 1 (west) or Highway 67 (east).
Stop in at the Home Cafe in Bronco Billy's Casino on Bennett Avenue for a $0.49 breakfast. You read that right. Two eggs, hash browns and a biscuit or toast for less than half a dollar (bacon, ham or sausage are $0.75 extra).
Cañon City: Fuel is available all along Highway 50 (Royal Gorge Blvd) as it passes through town.
There is no better place for a frumpy smashed up burger and tasty shake than the Owl Cigar Store on Main Street. But hopefully you're not in a hurry, because they're not.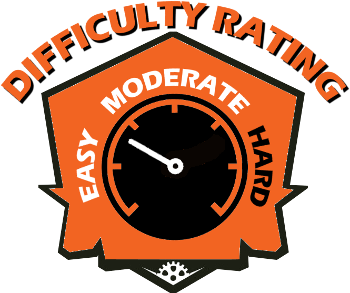 Difficulty
The Shelf Road is rated EASY/MODERATE in difficulty. The gravel road is well maintained and wide enough to pass in most places. However there are some steep grades with sharp turns and loose gravel which can be moderately challenging.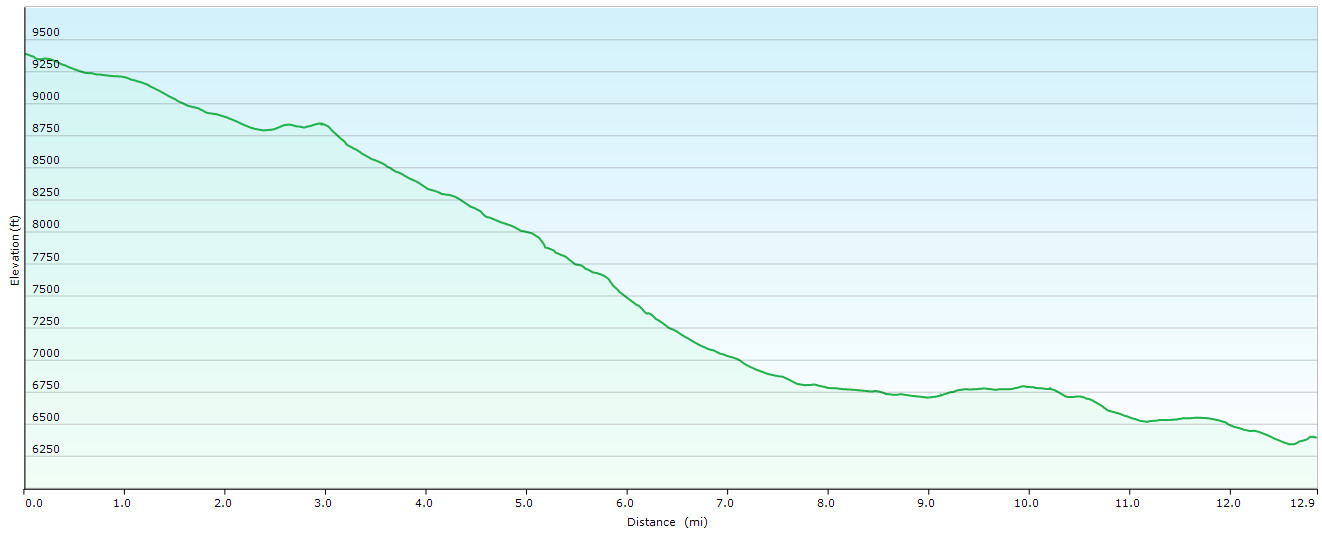 Trail Stats
Distance: 12.9 miles
Duration: 32 minutes with an overall average moving speed of 24 mph
Maximum Elevation: 9,391 feet
Minimum Elevation: 6,343 feet
Total climb: 289 feet
Total descent: 3,285 feet